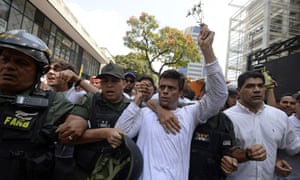 Venezuelan opposition leader, Leopoldo Lopez is back to house arrest from a four-day detention amid efforts to restore calm to the country reeling from weeks of riots and the fallout of the constitution amendment vote.
Lopez was first arrested in 2014 and released to house arrest last month along with another opposition leader Antonio Ledezma who was also put under house arrest on Friday.
Authorities say they ordered the house arrests because the two men had planned to either hide inside the country or flee abroad.
Their return to their families came a day after a nationwide vote which President Nicolas Maduro had called on the formation of a Constituent Assembly, tasked with rewriting the country's constitution.
At least 125 people have died over the past four months in Venezuela during riots and violent demonstrations against the government.
Meanwhile, sacked Venezuelan chief prosecutor Luisa Ortega is not giving up without a fight.
Ortega, rejecting her dismissal by the new constituent assembly on saturday says she was sacked because the government wanted to stop her investigations into alleged corruption and human rights abuses.
In its first session on Saturday, the assembly unanimously voted to remove Ms Ortega from her post, and was prevented from entering her office in the capital, Caracas.
Dozens of National Guard officers in riot gear had mounted a barricade but had to leave as the scenes turned chaotic.
Ortega, a supporter turned critic of said the government was leading a "coup against the constitution".