Presidential candidate of the Labour Party, Mr Peter Obi, paid a visit to the Central Mosque in Onitsha, Anambra State, on Sunday, to join the Muslim community in celebrating and sharing in the joy of Eid el Fitr.
In turn, the Muslim Community in Anambra State praised Mr Peter Obi, for his "unwavering support" for the community from his days as Governor of Anambra State until now.
They described Obi as a true and detribalised Nigerian who does not segregate against tribe, religion or ethnicity.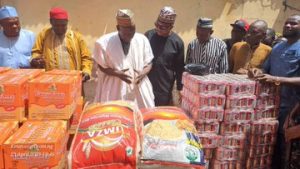 Speaking at the Central Mosque, Onitsha, where Obi went to celebrate the Eid-al-Fitr with them, the Secretary of the Muslim Community in Anambra, Barr Mahmoud Imam registered their displeasure with what he described as unnecessary lies and propaganda against the person of Peter Obi.
In his speech, Obi appreciated the Muslim Community for their welcome.
He explained that his visit to the Community was to celebrate the Eid al Fitr with them as he has always done. He also promised to continue to support the muslims in the State and any part of the country, in any way he could.
Reiterating the need for Nigerians to love and appreciate one another, Obi stated that every Nigerian should be free to live and thrive in any part of the country without intimidation or harrassment.
"I am a Nigerian who believes in Nigeria. My ADC when I was Governor, Idris, is a Northerner from Kano State, and he is a good man. I have never discriminated against anyone based on religion or tribe, and I will never do that. I want the whole nation to hold me accountable on this. I will never discriminate against anybody. I will continue to support you especially in areas of education, health and your worship.
Please disregard anyone who tells you that I do not like the Northerners. I love every Nigerian," Obi said.
Obi presented 30 cartons of noodles, 30 cartons of Malt, bags of rice and cash gift of N500,000 to the Muslim Community.
In his words of appreciation, the Chief Imam of Central Mosque, Onitsha, Alhaji Abdulrahman Hamza Imam, appreciated Obi for his benevolence and prayed Allah to continue to protect, bless and guide him always.