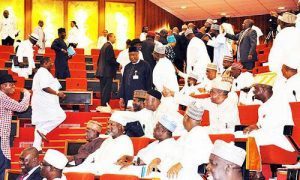 The Senate has approved N234.5 billion for the Independent National Electoral Commission ahead of the 2019 general election.
The Senate, however, refused to approve the budget for security agencies as requested by President Muhammadu Buhari on Wednesday.
It added N45.5 billion to the the initial N189 billion approved by the Senate Committee on INEC.
The approval was made after the Chairman of the Senate Committee on Appropriation, Danjuma Goje, presented a report following his committee's consideration of Mr Buhari's letter.
The president had written the Senate on Wednesday, requesting that the National Assembly approve N242 billion as requested by INEC and security agencies for the 2019 elections.
He said the entire sum of N242 billion be taken from other subheads in the 2018 Appropriation Act.