Northern Ireland Chest Heart and Stroke has developed its Well Mind programme to provide participants with an understanding of stress and the management of its triggers.
According to a new TUC survey of trade union health and safety representatives, stress is the top concern in UK workplaces. In addition to this, a recent report published by NISRA looked at sickness absence in the Northern Ireland Civil Service found that approximately 1 in 11 of its staff had a spell of absence due to a mental health illness. The proportion of all working days lost that were due to mental health illness which was recorded at 36.4%.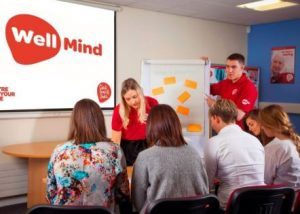 Extended periods of stress can lead to high blood pressure and increased risk of blood clots. These are worsened by the ways people choose to cope with stress, such as smoking, increased alcohol consumption or comfort eating, which further increases their risk of illnesses such as heart disease or stroke.
Fidelma Carter, Public Health Director for Northern Ireland Chest Heart and Stroke commented,
"We have been running our Well Mind programme for a year in workplaces across Northern Ireland and the feedback has been great. One participant told us, 'I feel more equipped to deal with everyday stress and be aware of my triggers and coping techniques. I will be trying to implement the new techniques I learnt into my new routine.'
"However, despite the success of the Well Mind programmes we have run in the workplace, we understand that employees may not feel comfortable talking about stress in the very place that is contributing to it. So for the first time, we are running a Well Mind programme outside of the work place environment. We hope that people who are concerned about workplace stress will sign up and learn how to cope with it more effectively."