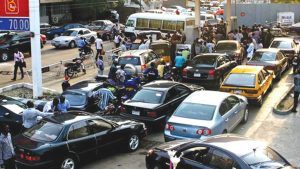 To avoid and solve the problem of fuel scarcity, the Peoples Democratic Party (PDP) yesterday asked President
Muhammadu Buhari to quit as Minister ofPetroleum Resources and allow "competent hands" to manage its affairs, stressing that it would save Nigerians the trauma of sleeping in fuel stations.
The party described as unpardonable, the failure of the Buhari Presidency to resolve the ongoing fuel crisis. The opposition party added that President Buhari, as Minister of Petroleum, must directly accept responsibility for the manifest failure in the oil sector.
PDP National Publicity Secretary, Kola Ologbondiyan, in a statement said it is disheartening that instead of being remorseful for its failures, the All Progressives Congress (APC)-controlled Federal Government is busy dishing out "lies and fabricated indices in an attempt to give Nigerians false hope on issues related to the fuel crisis and the collapsing national economy".
The PDP said "if President Buhari had heed wise counsel from well-meaning Nigerians, since last year, to quit office as the minister of Petroleum and allow a more competent and knowledgeable person to run the ministry, the situation would not have degenerated to excruciating pains Nigerians suffer today." The party said the "fact that the Presidency has unapologetically failed to fix a national problem, which it last December promised to resolve within one week, shows it has no solution but intends to continue to hold the nation to ransom.
According to the PDP, the "fact that there are inherent poor coordination, inefficiency and reported heavy sleazes in a sector that is under the direct supervision of the President, raises a lot of issues and speaks volumes of the evident mismanagement of the system for which the economy is now in complete shambles. "It is an appalling height of insensitivity that the President, as the Minister of Petroleum Resources, has failed to take any decisive steps to arrest the situation, which has remained unabated since the last Yuletide.
"Rather, the sector has been delivered to an APC cabal, whose mission, particularly, the desperate re-election bid, largely account for the biting fuel situation and the economic misery Nigerians suffer today. "It is instructive to state that the Presidency has refused to offer any explanation on the allegations linking the fuel crisis to the exposed siphoning of billions of naira through shady oil subsidy deals and the illegal lifting of crude oil worth trillions of naira, ostensibly to service APC interests ahead of the 2019 general elections.
"The point is that owing to the ineptitude of the Buhari Presidency and the desperation to remain in power, millions of Nigerians are languishing. "As we speak, the economy has further dipped in the last two months of this harrowing fuel situation; more businesses have folded up, prices of essential goods are skyrocketing and families are, more than ever before, under intense pressure of meeting economic demands. "Currently, marauders have chased farmers away from farmlands while Buhari Presidency continue to wax lip sermons on serious issues of insecurity. "We call on President Buhari to quit this all important ministry of petroleum resources and allow competent hands to save our people from the anguish and pains they have been subjected to in the last few months."