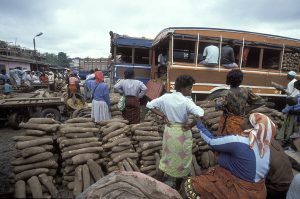 Nigerian exports slowed for the first time in five months in March, the statistics office said on Wednesday, in line with a wider easing of the pace of growth in west Africa's biggest economy following its emergence from a recession last year.
Growth rates have bounced back since the third quarter of 2016, when the country's first recession in 25 years was at its deepest. But the expansion slowed in the first quarter of 2018.
Nigeria's trade account turned positive in 2017, largely driven by a rise in the OPEC member's oil exports which also helped the country exit the recession. Africa's top oil producer relies on crude sales for around two-thirds of government revenue.
The balance of trade from January to March was 2.18 trillion naira, the National Bureau of Statistics (NBS) said. The net trade balance stood at 677 billion naira in the same period of 2017.
The NBS said crude exports accounted for more than 75 percent of exports in the first quarter, with cocoa bean exports, largely to Europe and Asia, making up 0.50 percent.
Total exports rose for the eighth straight quarter, taking their value to 4.69 trillion naira in the first quarter.
Nigeria, which is Africa's most populous country, has limited manufacturing capacity, so it imports most of what it consumes. Its imports in the quarter rose for first time since second quarter 2017, to 2.52 trillion naira, the NBS said.
Total trade rose to 7.21 trillion naira in the first quarter of this year. Trade has consistently risen since the first quarter of 2016 except for a decline in the fourth quarter of 2017, the NBS said.