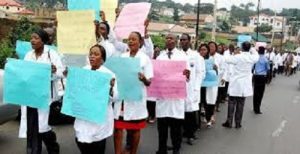 Joint Health Sector Union has threatened to go ahead with its planned indefinite strike, if the Federal Government fails to address all its concerns.
Addressing members at a rally in Abuja, the national Chairman of the Union, Biobelemoye Josiah, says the union have given the federal government a thirty-day ultimatum which will expire on Tuesday.
They are demanding the payment of promotion arrears, the abolition of scale to scale promotion, and the implementation of all court judgements given in favour of its members.
The union said the latest industrial action would paralyse activities in all health institutions across the country.
"All federal government health institutions in Nigeria including federal medical centres, specialists' hospitals, orthopedic hospitals, psychiatric hospitals among others will be the first to shut down.