The second phase of the National housing scheme, financed by the federal mortgage bank of Nigeria, to provide affordable 100 housing units for civil servants in the south east region, has been inaugurated at Ubani housing estate in Uzuokoli, Abia state.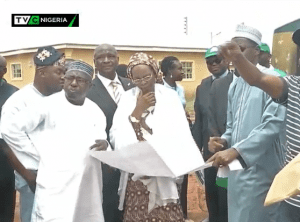 The initiative by the federal govt. through the national affordable housing delivery programme is geared towards the civil servants across the nation to solve the problem of housing deficit.
In his address, Managing Director of the federal mortgage bank, Ahmed Dangiwa explained that the bank will be delivering a mix of 3,2 and 1 bedroom semi-detached bungalows and blocks of flats with a strong focus of affordability and adjustment to suit locations and peculiarities.
Governor, Abia state, Okezie Ikpeazu and representatives of labour unions present at the event lauded the FG for the initiative.
Houses will be delivered across the six geo-political zones across the country.
Stake holders have urged state govt. to key into this initiative that will help bridge the gap in the Nigerian housing sector