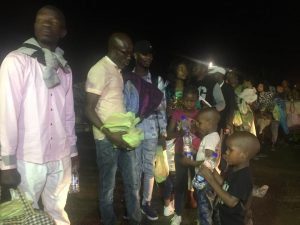 The flight conveying the second batch of Nigerian returnees from South Africa has arrived in Lagos.
314 Nigerian returnees who were evacuated from South Africa touched down at the  Murtala Muhammed International Airport, Ikeja, Lagos at exactly 7:40 pm Nigerian time.
Their flight was stalled on Tuesday due to the airlines's delay in securing landing permit from South African aviation authorities.
Upon arrival, journalists were not allowed into the arrival point for security reasons.
They were subsequently brought to the NAHCO section for verification.
CEO of Air peace, Allen Onyema said this gesture has brought respect to Nigeria.
This number brings it to a total of 501 Nigerians that have been evacuated from South Africa.
The returnees comprising men, women and children are the second batch of Nigerians who registered for evacuation following the xenophobic attacks in South Africa.