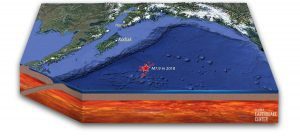 A Hawaiian volcano is set to erupt after hundreds of earthquakes and the collapse of a crater floor. Lava may burst through the ground east of Kilauea, the most active of the five volcanoes that form the state's main island, geologists have warned.
Authorities have urged the public to be on alert after scientists noted underground magma flowing beneath a main road near houses in the district of Puna.
More than 250 earthquakes have been detected since a crater floor collapsed at the Pu'u O'o vent in the shield volcano's eastern rift zone earlier this week.
Most were minor but many were felt by locals, including one with a magnitude of 4.2, which shook the coast on Tuesday morning.
Scientists from the US Geological Survey's Hawaiian Volcano Observatory (HVO) warned the seismic activity could lead to a lava breakout, although they could not say where or when.
The Hawaii County Civil Defence Agency issued an alert warning people in the area to monitor the situation and be prepared for the possibility of a new lava flow.
In 1983 an eruption of Pu'u Oo resulted in lava fountains soaring over 1,500 feet high. In the decades since, the lava flow has buried dozens of square miles of land and destroyed many homes.
In 2008, after a series of small earthquakes rattled the island, Kilauea's summit crater opened and gushed lava and rock over 75 acres of the mountain, damaging a nearby viewing point.