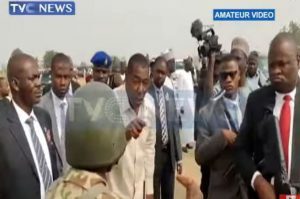 Governor of Borno state, Babagana Zulum, has accused security personnel of collecting bribes from citizens at check points within the state.
Persons without national identification cards are made to pay one thousand naira to soldiers and policemen at check points
The governor made the open accusation at a checkpoint on the outskirts of Maiduguri along the Damaturu/Maiduguri highway, where he saw thousands of stranded travellers.
Governor Zulum condemned the action of the security operatives whom he accused of concentrating on receiving bribe while insurgents continue with attacks on communities.
The Nigerian Army has promised to carry out investigation into the allegation.