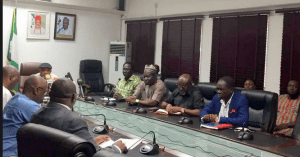 The meeting of the National Minimum Wage Committee which began at about 11:30am has dragged into the night as journalists wait anxiously to see the end.
It is expected that all parties in the committee will reach an amicable settlement to avert a nationwide strike.
The Secretary to the Government of the Federation, Boss Mustapha, is expected to receive the final report of the tripartite committee on behalf of the Federal government for submission to President Muhammadu Buhari who in turn will transmit same to the National Assembly for legislative inputs.
The Parliament will then commence legislative work, leading to a public hearing where members of the public will make contributions.