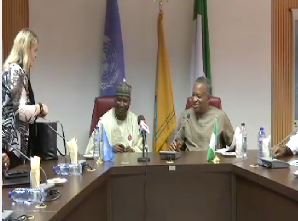 The Ministry of Foreign Affairs has received the President of the 74th session of the United Nations General Assembly, Tijjani Muhammad-Bande on his 1st official visit to the country.
The president who arrived the country in the early hours of Friday is on a visit to buttress the importance of inclusion, implementation of the Sustainable Development Goals, eradication of poverty and hunger, which are the core of his mandate
Moyo Thomas reports that the president of the 74th session of the United Nations arrived the Ministry of foreign affairs in the company of country representatives of some United Nations agencies.
The UNGA President, Tijani Muhammad-Bande said his strategy will be focused on conflict prevention and believed issues of terrorism, climate change and inclusion requires global action. He was received by the minister of foreign affairs who reiterated Nigeria's support to him
While fielding questions from journalists, the Minister of foreign affairs dismissed the news making rounds on the alleged supply of arms to Boko Haram by the president of Turkey, describing it as fake news which Nigeria does not believe.
Tijjani Muhammad-Bande is the 2nd Nigerian to be elected the President of the United Nations General Assembly after Joseph Garba in 1989.