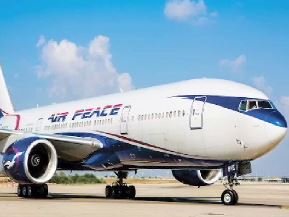 The United State authorities have reportedly frozen about $14.2 million in bank accounts linked to companies registered by the Air Peace chief, and have commenced efforts towards securing final forfeitures of the funds.
The US Department of Justice, through the United States Attorney's Office, Northern District of Georgia,had last week, made public the indictment of Mr Onyema and the airline's head of finance and administration, for over $20 million bank fraud and money laundering.
Also Read: US Court issues warrant of arrest for Air Peace CEO, Allen Onyema
According to the charges, Mr Onyema used several companies he set up in the U.S. to launder funds and commit bank fraud through the issuance of counterfeit letters of credit.
The American government said it  also traced and seized $5,634,842.04 held in Bank of Montreal in the name of Bluestream Aero Services, Inc.
The United States government says it would not be making any more public comments regarding the indictment of Chairman of Air Peace, Allen Onyema, for bank fraud and money laundering.
Allen Onyema and his staff have strongly denied the allegations, saying they look forward to proving their innocence in court.