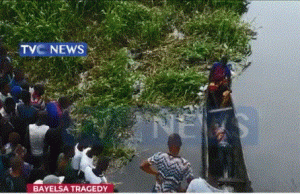 The bodies of two youth who drowned in the Epie Creek have been recovered two days after their canoe capsized at the Agudama area of Yenagoa.
Seven of them were said to be crossing the creek at 11pm on Friday when the current swept their canoe away, leading to the death of Jeffrey Williams and Adebayo Ibori.
The Epie creek flows from Igbogene through some communities and down to Ovom.
It is a tributary to the Swali river.
Tragedy struck on Friday night when Jeffery Williams, a twenty-year-old undergoing registration for a study in Computer Science at the Federal Polytechnic of Oil and Gas in Ekowe drowned in the Creek.
They were seven in number but five survived while Jeffery Williams' friend Adebayo Ibori was  swept away by the current in the Epie Creek.