The management of the Continental Broadcasting Service on Wednesday rang the closing bell at the trading floor of the Nigerian Stock Exchange.
The ceremony further cement the exiting relationship between CBS and the management of the Nigerian Stock Exchange..
The management and traders at the exchange expressed their satisfaction at the quality of reportage TVC News gives the capital market. They urge the station to continue with their unbiased reporting of the exchange.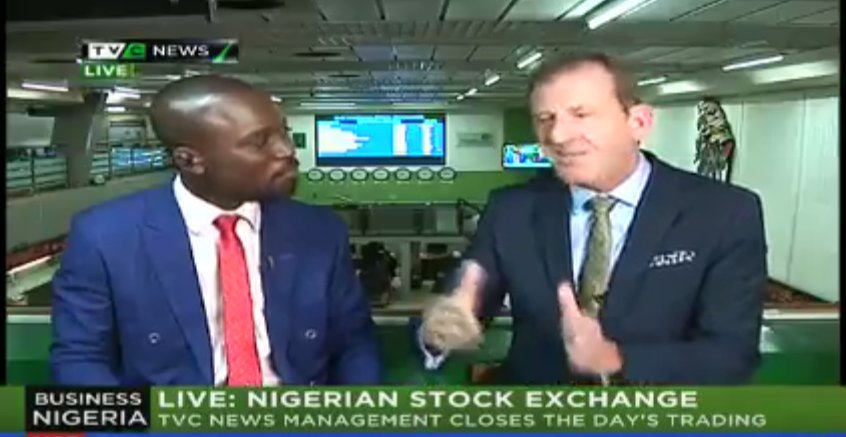 Speaking on Business Nigeria Programme live at the trading floor with Tolulope Ogunjobi, the Chief Executive Officer, Continental Broadcasting Services, Andrew Hanlon, thanked the management of the Nigerian Stock Exchange for opportunity given to the company, describing it as memorable. He said the event will help cement the partnership between his organisation and the management of the NSE.
"We thank the management of the NSE for the opportunity given to us. I t will help to further strengthen the partnership between us.  We hope to get advertising services from @NSEcontact as it is what we rely on," Andrew said.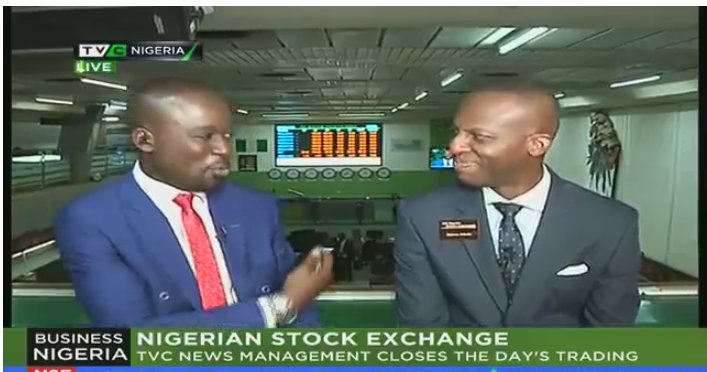 Also speaking, Ade Bajomo, Executive Director, Market Operations and Technology, NSE, said the Stock Exchange Market is excited having TVC News which is known for its professionalism at the floor of the market. "We are excited having TVC transmit live from the floor," Bajomo said.
Similarly, Charles  Fakrogha, Dealer, Foresight Securities Limited, lauded TVC News for its balanced reportage and urged the company to continue with the good work. "TVC News has done so well in many areas, including its quality reportage,"  Fakrogha said.
Other TVC News management staff present at the closing of trading at the floor of the Stock Exchange Market include Deputy Director, News, Tunde Osho and Manager, Public Relations, Mabel Aladenusi.
The NSE closing bell ceremony was featured on the NSE website and televised live on TVC News and CONSAT/Play, reaching 150 million of viewers worldwide.