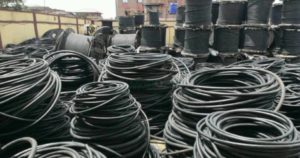 The Standard Organization of Nigeria has seized fake imported cables worth billions of naira, ware-housed at two separate buildings, in the Ajangbadi area of Lagos.
The organisation enforcement team's findings revealed that the importer, faked more than 20 made in Nigeria brands.
TVC News Correspondent, Ifunanya Eze reports that officials of the Standard Organisation swung into action following a tip-off of where the fake electrical cables were warehoused.
Speaking about the latest interception, the leader of the enforcement team revealed that the cables were imported by Estobest Electricals limited, located at the Alaba International market in Lagos.
Immediately ordering the evacuation of the cables, the standards body noted that local manufacturing industries are shutting down because of the activities of dishonest importers, who import life threatening substandard products into the country.
The Standards agency says the destruction of the cables would serve to discourage further dishonest undertakings.