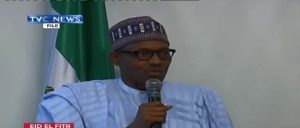 President Muhammadu Buhari has urged Muslims in the country to sustain the virtues of the Ramadan period.
He also expressed satisfaction at the conduct of peaceful elections in Nigeria, despite what he called "doomsday predictions of social disharmony."
In his Sallah message to Nigerians, Buhari commended INEC for a good job despite the initial difficulties and praised the voters for their tenacity and strong faith in the democratic process.
On Ramadan, Buhari urged Muslims to always put humanity before personal interests.
He said going back to bad ways after the Ramadan might defeat the essence of the message and lessons the fasting period was supposed to inculcate in the hearts and minds of the Muslim faithful.