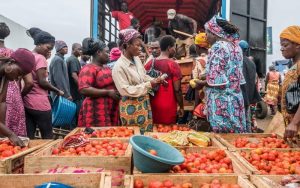 Residents of Jos, the Plateau State capital are worried about the increasing cost of Tomatoes in the State. Consumers are worried that the commodity may soon be priced beyond what they can afford.
TVC News Plateau Correspondent Funom Joshua reports that tomatoes are the major dietary source of the antioxidant lycopene, which
has been linked to many health benefits, including reduced risk of heart disease and cancer.
They are also a great source of vitamin C, potassium, folate, and vitamin K.
Jos the Plateau State capital is known for food production but most is popular for its fresh Tomatoes, usually red, large, nutritious, flawless
very beautiful and affordable.
The state is among the few states in Nigeria renowned for producing Tomatoes and traders as well as consumers, come from far and near to buy Tomatoes due to it being affordable in the state. But that may soon change.
The recent increase in the price of Tomatoes in Jos is eating deep into the pockets of residents. Residents of Jos are hoping that the increase in the price of the commodity will not last too long.