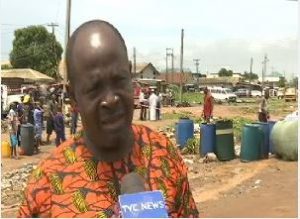 Residents of victory estate, along Idimu Ejigbo road in Lagos, are asking security officials, to, as a matter of urgency, safeguard the pipelines in their community to stop vandalism.
They said this after community members noticed a pipeline had been vandalised in their estate. Residents were initially afraid to go about their usual activities but normalcy has since been restored.
Correspondent Sarah Ayeku reports that Victory estate along Idimu/Ejigbo road in Alimosho local government area of Lagos State, a quiet estate now measured by the red and white tape of emergency responders.
Residents woke up Thursday morning to discover that a pipeline owned by the Nigerian National Petroleum Corporation had been damaged by pipeline vandals.
It was reported that the perpetrators left their tools and personal belongings when they heard that security agents have been alerted. According to community members, the shallow depth of the pipeline encourages vandals.
Business activities around the area were at a standstill. Mary Francis is a food vendor, she said she was advised to lock up her shop to prevent an explosion since officials were not able to repair the pipeline on time.
Security officials say there could be a voluntary or passive collaboration between the community and vandals. Investigation is ongoing to ascertain if the criminals are members of the community.