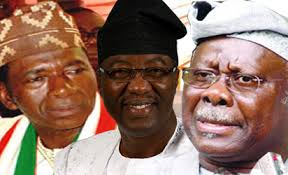 The People's Democratic Party senators have met with four of the contestants for the position of the party's next chairman.
The senators questioned Bode George, Jimi Agbaje, Raymond Dokpesi and Tunde Adeniran about their plans for the PDP, and its December national convention.
TVC News Senior Correspondent Sumner Sambo reports that opposition Senators of the PDP are here to meet with the national chairmanship aspirants as a way of ensuring that the party emerges stronger from its December national convention.
They are also drilled on their strategies for winning future elections.
One by one the national chairmanship aspirants walked into the meeting venue to face their senators with a view to sharing ideas on political party strategies and management.
After the screening, senators of the major opposition party told journalists that the exercise will aid them in arriving at a decision on who to support as a caucus at the forthcoming national conventon in Abuja.
Meanwhile, all the aspirants on Tuesday also met with the Ahmed Makarfi-led National Caretaker Committee before the party's 76th National Executive Committee (NEC) meeting in a bid to douse tension.