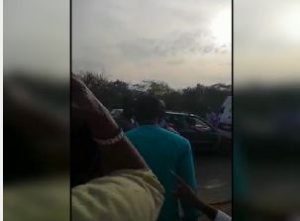 Some residents of Ondo State have urged the State Police Command to ensure that the policeman who killed a haulage driver in Uso, Owo Local Government Area, is brought to justice.
This is coming after the command set-up a panel to investigate the matter.
Ayodeji Moradeyo reports barely 24 hours after the sad incident, reactions have continued to trail the killing of a haulage driver by a policeman in Uso, Owo Local Government Area of Ondo state.
The driver, whose identity is yet to be ascertained, was shot by the policeman from a close range.
The State Police Command has apologised to people of the state, condemning the action by its officer. It has also set-up an investigation panel to probe the conduct of the policeman.
The command's spokesperson, who confirmed the development, said the officer will not be shielded from punishment.
While assuring members of the public of adequate protection, the police image maker said the outcome of the investigation will not be swept under the carpet.
But some residents of the state urged the police to disclose the identity of the killer cop. They want the issue to be given a speedy trial.