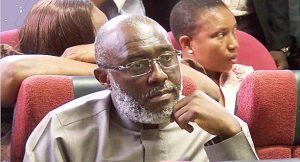 Justice Okon Abang of the Federal High Court in Abuja has granted leave to the Economic and Financial Crimes Commission to try the embattled former National Publicity Secretary of the Peoples Democratic Party Chief Olisa Metuh, in absentia.
The court said it was satisfied that Metuh has jumped bail, saying there was no reasonable explanation to justify his absence for continuation of trial.
Justice Abang agreed with EFCC that Metuh had on Monday, engaged in gross misconduct when he disobediently attempted to enter the dock after the court had permitted him to remain where he was initially seated.
Metuh is answering to a seven-count charge alongside his firm, Destra Investment Ltd. EFCC said that he received N400million from the Office of the National Security Adviser, prior to the 2015 presidential election, without executing any contract.