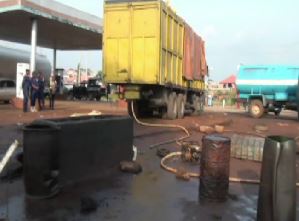 The National Security and Civil Defence Corps in Anambra state has carried out a raid on a filling station in the capital, suspected to be dealing in acts of sabotage.
The agency said this poses a threat in its mandate to protect oil pipelines against vandalism.
Correspondent Bamidele Ajayi reports that a truck  carrying substance suspected to be crude oil – possibly gotten from an illegal refinery was travelling from Owerri-Port-Harcourt expressway, concealed with sawdust to mask the content in the truck.
Though, the driver and the owner of the truck are currently at large, the men of the Civil Defence corps have promised to unravel the
culprits behind this act of sabotage and bring them to justice.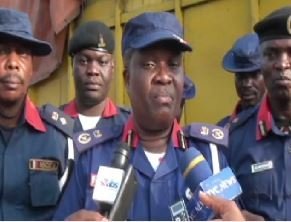 The NSCDC told newsmen that the discovery was due to a synergy between it and the Independent Marketers Association of Nigeria
The Commandant commended officials of the IPMAN for their alertness, lamenting the huge lose vandalism, illegal bunkering and crude oil theft contribute to the decline of the nation's economic resources.
The command promises to ensure security of lives and property in the state. She also called on the public to provide useful information that will expose those who engage in the illegal acts.