North Korea says it has test-fired a new "tactical guided weapon" with a "powerful warhead".
This is the first such test since talks between Donald Trump and Kim Jong-un ended without any agreement.
State media gave few details, but analysts say this is unlikely to be a return to the long-range missile tests seen as a threat to the US.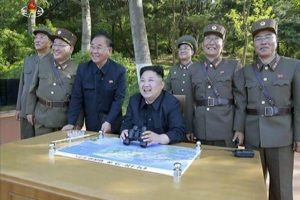 Mr Kim said "the development of the weapon system serves as an event of very weighty significance in increasing the combat power of the People's Army."
A similar test last November was seen as an attempt to pressure the US.
The test was "conducted in various modes of firing at different targets", which analysts believe mean the weapon could be launched from land, sea or air.
The White House said it was aware of the report and had no comment.