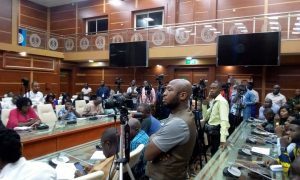 The Nigerian defence headquarters, the triservice arm that coordinates the activities of the Army, Navy and Air force, said no soldier will be actively involved in providing security at the polling unit during the elections.
Defence spokesman, Brigadier General John Agim, explained that military personnel can vote but that would be done in mufti and not in uniform.
Gen. Agim however made it clear that troops are not supposed to be at the polling unit but to assist the lead policing agency from a distance. He stressed that any military personnel who is not on duty should steer clear of any involvement in election security.
He warned that troops are on standby to deal with any group that tries to undermine the electoral process, as intelligence gotten by the military authorities indicate politicians have procured arms and military accoutrements.
The defence spokesman explained that the role of the military would be to ensure a safe environment where voters cab cast their ballot and not to come anywhere close to the polling units.
The defence Spokesman warned that anyone disrupting the peace during the elections would be dealt with, adding that any civilian caught in military uniforms would be treated as a terrorist. This he explained is as a result of intelligence which suggests that some persons have procured military accoutrements with the intention of using then during the elections.