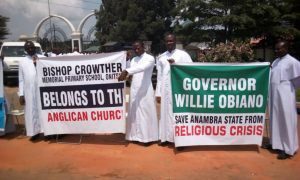 Scores of Anglican Diocese of the Niger clergymen thronged government house Awka, barricaded the entrance gate,
demanding that government should review the ownership of Bishop Crowder Memorial School, Onitsha to be given to the rightful owner .
The clergymen who are mainly venerables, canons, Arch-Deacons participated in the procession, calling on the state Governor, Willie Obiano to use his office and correct the wrongs meted at the church
The clergymen bearing placards with difference inscriptions like, Religious Politics in Anambra State, Anambra Beware, " Governor Obiano Give us our Land and School, Bishop Crowther Primary, Governor Obiano, Live our Property For Us' , calling on the state governor to avert religious disharmony in the state.
Addressing journalists, the Managing Director Awka, Capital Territory Development Agency, Bishop Amexhi Okwuosa appealed to the protesting clergymen to allow the committee set up by the state government to finish with their finding .
Venerable Okwuosa who an Anglican Clergyman berated he conduct of his colleagues for not allowing government to complete its finding before setting out for the protest .