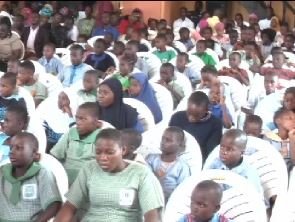 Nigerians have been urged to see the problems of having many out of school children in the country as part of their personal challenges because it may later turn to national calamity.
Speakers at the inauguration of a non governmental organization on Shelter, Healthcare and Education support Initiative made this known at Ijebu-Igbo, Ogun State.
TVC News Kazeem Olowe reports that it has been observed that the increasing number of out of the school children in Nigeria must attract attention of parents across the country and they must pick interest in finding solutions to it in order to avert serious problems in the future.
Speakers at the educational support and empowerment Programme organised by a non governmental organization for students in Ijebu-Igbo area of Ogun State made this observation while speaking on challenges confronting the nation's educational sector.
The Executive Director of the foundation explained that they decided to promote the project in order to help the less privileged in the society and to make education accessible to all.
The foundation also promised to embark on provision of scholarships for indigents students in the state.