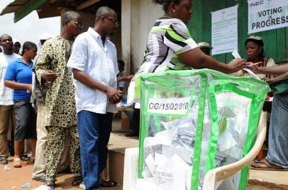 Nearly ten million ((9,089,465)) Nigerians have registered in the on-going nationwide continuous voter registration.
This was reviewed by the Chairman of the independent National electoral commission at a summit organised to increase citizen participation in Elections.
As the 2019 general election draws near, the independent National electoral commission and relevant stakeholders are keen on ensuring free, fair and credible election.
This summit organised by the Transition monitoring group, in partnership with Christian AID Nigeria, is aimed at improving public confidence and active participation of citizens ahead of the 2019 General election.
In highlighting the efforts put in place by the commission to ensure every eligible Nigerian participates in the election, INEC chairman Mahmood Yakubu stated that the commission is working hard to ensure all registered voters get their PVC before the 2019 general election.
With the over seventy million Nigerians already in INEC's register, it is expected that over eighty million Nigerians will participate in the forthcoming election.