According to reports, a group of migrants camping out at the U.S.-Mexico border have begun a hunger strike to protest Mexico's efforts to block them from making their way into the U.S.
The protest group is part of a caravan of thousands of Central American asylum seekers who have been waiting for weeks in Mexican border town Tijuana to be able to process their asylum claims at the U.S. border.
With U.S. asylum officers only processing around 100 claims or less per day, asylum seekers have been warned that they could be stuck waiting in Tijuana for many more weeks, if not months, before their claims can be considered.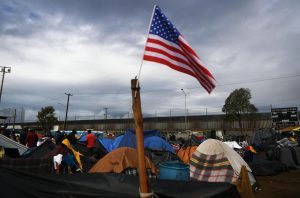 The majority of the group, which includes families with small children, have been forced to sleep outdoors in an open-air sports stadium or on mats in an overcrowded shelter since arriving in Tijuana, enduring wet and muddy conditions.
Mexican immigration authorities have reportedly began transporting some of the asylum seekers to a new shelter on Thursday to lessen the strain.
Still, asylum seekers say they are frustrated with Mexican police blocking them from accessing the U.S. border.