At least 9 persons including two Briton nationals have died while six person are reportedly missing in the devastating flash floods which occurred on the Spanish holiday island of Marjorca on Wednesday.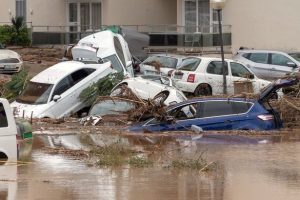 Footage showed cars being swept away by raging, muddy waters, houses flooded and vehicles piled on top of each other after the Mediterranean island was pounded with heavy rain in just a few hours.
Deputy mayor of Sant Llorenc des Cardassar, Antonia Bauza, reported that two British nationals were among the dead. She said there were also Britons among the missing.