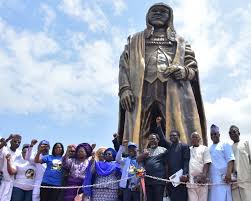 Lagos State Government has unveiled a new statue of the late Chief Gani Fawehinmi, sited in Ojota area of the state in commemoration of the late legal luminary's 80th post-humous birthday. TVC News Correspondent, Adedoja Salam-Adeniyi reports that governor Akinwunmi Ambode and his team, members of the Gani Fawehinmi family, friends, legal practitioners, human rights activists among other dignitaries came together to unveil the new statue of one of their own.
Senior Advocate of Nigeria and a friend of the family, Femi Falana and others said though Gani is gone but explained that Gani lives forever through his legacies.
Ganiu Oyesola Fawehinmi died at 71 on September the 5th, 2009 after a battle with lung cancer.
Meanwhile, a posthumous Birthday colloquium was held in Lagos for the late legal icon and senior advocate of the Masses.
The event, organised by his family and several civil society organisations, was chaired by Nobel Laureate , Prof Wole Soyinka. He delivered a keynote address titled, "Gani's unfinished business." The event was also used to reflect on the state of the nation.