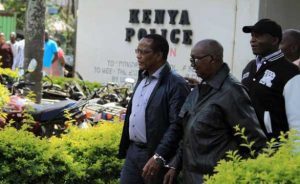 A Kenyan court denied bail on Tuesday to dozens of suspects detained in a corruption scandal involving the theft of nearly $100 million worth of public funds, and it ordered that they remain incarcerated throughout the trial.
The 43 suspects, who include public servants and private business people, were detained in recent days and are facing charges including abuse of office and conspiracy to commit an economic crime.
The money was lost at the government-run National Youth Service (NYS), which helps to train young people and deploys them to projects ranging from construction to traffic control.
"I find the charges facing the suspects are serious," Douglas Ogoti, a magistrate at a court in the capital Nairobi, said in his ruling on their application to be released on bail.
He said some of their crimes were a "threat to national security" and ordered them to be remain in custody until the conclusion of the trial.
President Uhuru Kenyatta pledged to stamp out corruption when he was first elected in 2013 but critics say he has been slow to pursue top officials and ministers.
On Monday the government said it had asked public procurement and accounting officers to step aside and to undergo a new vetting process that will involve scrutiny of their personal wealth and service record.
Critics, though, say that prosecutions of top Kenyan officials are rare and that some corrupt but powerful and influential individuals remain untouched.
Investigators have found funds at the NYS were stolen through fictitious invoices for goods such as firewood and stationery and multiple payments on one supplier invoice.