As part of efforts towards fulfilling his 2015 Gubernatorial Campaign promises, Katsina state Governor, Aminu Bello Masari has procured over Eighty Four Vehicles for Commercial purposes.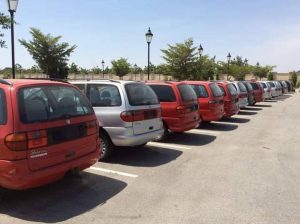 The Vehicles were handed over to members of the National Union of Road Transport Workers Katsina state Branch, in form of an interest-free loan facility, payable within three years.
Members of the NURTW in Katsina state were excited over this gesture by the Katsina state Government and say it is the first of it's kind in the history of the Union in Katsina state.
Governor Aminu Bello Masari reiterates that the aim is for members of the Union to own Vehicles of their own, thereby reducing transportation related hardships.
The Governor also promises to extend a similar gesture to the Keke-NAPEP Riders Association in the state.
Masari also cautions commercial vehicle Drivers against reckless driving and overloading.
Members of the NURTW in Katsina state on their part, promised to reciprocate the state government's gesture by voting for the APC Candidates in all subsequent Elections.
They added that the state Government's initiative of interest free loans would to a greater extend improve the living conditions of many families in the state.