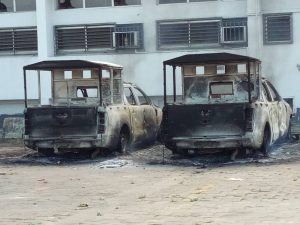 Truck drivers and members of the presidential task force team were today, involved in a clash at Apapa.
Already, one person has been confirmed dead, as police vans and other vehicles have been set ablaze. TVC News findings reveal that the altercation started from the Lilypond terminal gate.
According to eye witness accounts, the fracas was as a result of allegations of bribery and non compliance to the rules of engagement by members of the taskforce team.
The entry gate of the lilypond truck transit park was set on fire, with sporadic gun shots renting the air.