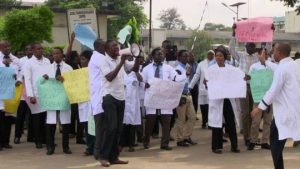 The Joint Health Sector Union says it has directed its counterparts in the states and local governments to join the ongoing health workers strike by midnight today.
The national chairman of JOHESU, Biobelemoye Joy Josiah, who disclosed this during a press briefing in Abuja, said the association made the decision because a series of meetings with the government to resolve the crisis had not yielded any positive result.
JOHESU, an association of all health workers except doctors, has been on strike for three weeks now.