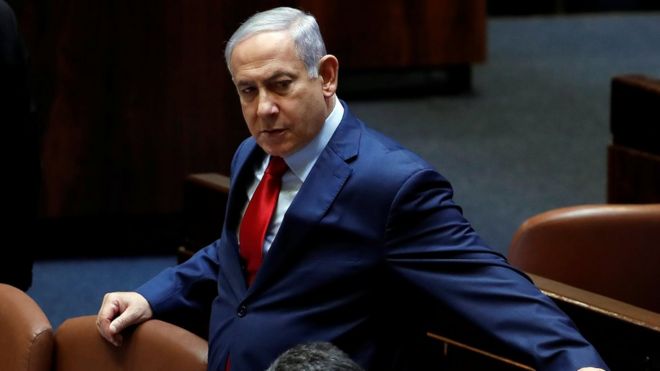 Israeli lawmakers have voted to dissolve parliament after Prime Minister Benjamin Netanyahu failed to form a coalition government.
The vote triggered a fresh election, which will be held on September 17.
It is a blow to the authority of Netanyahu, who confidently claimed victory in the last election on April 9, but could not put together a ruling conservative bloc, as he was widely expected to do.
His previous government lost some of its stability in November 2018 when then defence minister Avigdor Lieberman,resigned in protest at what he deemed insufficient Israeli military force in fighting Hamas in Gaza.
After announcing election in December 2018, on April 9 ballot Netanyahu ended up neck-and-neck against Benny Gantz, a politically untested ex-armed forces chief.
Netanyahu's presumed allies, Lieberman and ultra-Orthodox Jewish parties want young religious scholars exempted, en masse from mandatory national service. But Lieberman and many other Israelis want them to share the burden.
Lieberman has denied allegations that his real intention was to oust Netanyahu and lead a "national camp".
Meanwhile, no single party has ever won an outright majority in the Knesset, making coalition governments the norm. Netanyahu is still set to become Israel's longest-serving prime minister in July, and has made clear that he intends to run – and win. But it gives his opponents another chance to bring him down.