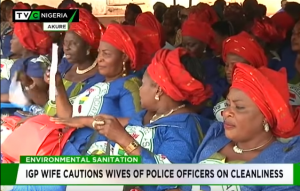 Wife of Inspector General of Police and National President of Police Wives Association (POWA), Barrister Asmau Ndayako Ibrahim Idris, has cautioned all wives of Police officers in Ondo State to maintain a hygienic lifestyle with constant environmental sanitation as efforts to rid off illnesses caused by such diseases.
She said that any officer who disobeys the cleanliness rules in barracks will be ejected to serve as deterrent to others
The IGP wife disclosed this during the routine Tour to Ondo State for flag-off of Environmental Sanitation and Barracks Inspection.
Idris said that it was imperative for wives of police officers all to ensure the health of their husbands and families is in good shape by keeping a clean environment.