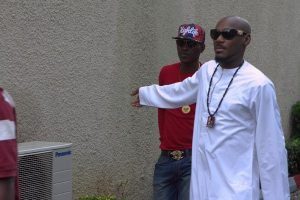 Nigerian singer Dammy Krane  who was arrested in the US for different charges including theft and credit card fraud has recounted
some of his prison experiences which he calls 'his exclusive story'. Dammy who as a guest on the LIB TV show told the world that only few people believed him and stood up for him during his trial and confinement. He revealed that apart from his immediate family, only few people in the industry were there for him.
"My family was there for me and my other family" he said. When asked who his other family members were, he opened up that only Davido and Tuface stood up for him.  He also mentioned that as for those who did not believe him, he has nothing to say to them "I don't even know them" he said. Talking about his stay in prison, Dammy revealed how he deliberately starved himself because he could not eat the food served to them. "We were given cold rice, a piece of cookie an orange daily, I ate only the cookie and the orange" the singer revealed while commenting that the situation of the prison was not conducive especially for black prisoners!