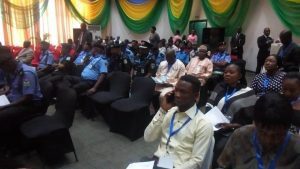 An Interpol conference has formally opened in Abuja with participants from National Police Organisations of 194 member countries.
It is part of events to mark the Interpol week hosted for the 1st time by the Nigeria police.
Commissioner of Police Garba Umar, who heads the National Central Bureau, which is the unit that enables the Nigerian police and other law enforcement agencies to connect with Interpol's secure communications network, said an inclusive effort of Interpol safeguarded INEC's server from being hacked during the 2019 elections in Nigeria.
Themed "Safer World" the event provides a platform for an inclusive approach in developing the capacities member countries to fight crime by using the inter pol i-24/7 platform, an integrated database for global action against criminals.