At least six people have been killed in flash floods in the southwestern Aude district of France.
The prefect of Aude, Alain Thirion says about 250 firemen and 100 police were involved in the rescue effort.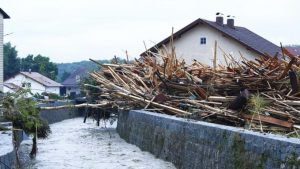 Six helicopters were also scrambled to help rescue people from the roofs of their homes, but bad weather made operations difficult
Thirion added that the flash floods struck without warning and at least one victim was swept away by raging waters while sleeping.
Water levels are expected to rise as schools in the area are closed and residents asked to stay at home