The Federal Government has said it remains committed to its campaign against fake news and hate speech in public spaces.
Information Minister , Lai Mohammed, said this at a meeting with online publishers in Lagos.
Also speaking at TVC News flagship programme, #TVCThisMorning with host Yori Folarin on Monday, the Minister stated that;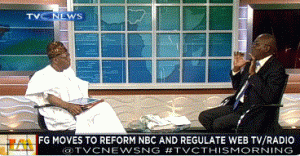 "When it comes to fake news and hate speeches, nobody is exempted. Many lives have been lost and careers destroyed, that is why this reform is very necessary
The fine of 500k to 5M will address a lot of these issues. It is going to restore sanity in the industry, not just for the web TV and the Radio".
Since the advent of social media in Nigeria, several individuals and groups have subjected it to abuse, by spreading hate messages and peddling falsehood.
This trend has further created divisions among Nigerians.
Worried by this development, the Federal Government decided to combat the menace of fake news and hate speech.
At a meeting with online publishers in Lagos, South-West Nigeria, the Minister of Information and Culture, Lai Mohammed said government has taken measures like review of the National Broadcasting Code and extant regulations to check the ugly trend.
For broadcast stations, the Minister explained that there will be no room for people to use their media to spread hate speech, as violation of the new NBC rules will attract 5 million Naira, rather than 500 thousand earlier stipulated for such offence.
He assured Nigerians that the new measure is not targeted at muzzling the press, calling on journalists to support government in the fight against fake news and hate speech.