The Federal Government has inaugurated a technical committee to review the national policy on albinism.
The committee is expected to identify issues that need to be addressed to safeguard the welfare of the people living with albinism and optimise their participation in national economy.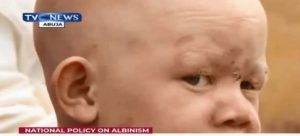 Albinos are often victims of segregation, stigmatization and discrimination, fueled by cultural beliefs and misconception.
The Federal Government has however, reiterated its determination to put an end to stigmatisation which has hindered the progress and well being of Albinos in the country.
The government has seen the need to review the policy to ensure it meets international best practices and ensure people with albinism are well represented in the country.
The Minister of Education Adamu Adamu stated this while inaugurating the Technical committee for review of the national policy on Albinism .
The National policy on albinism was adopted in 2012 in response to violence and discrimination against persons with albinism.
The policy's objective is to mainstream albinos into diverse sectors of development.