The Federal Executive Council has approved the setting up of a web-based automated inter-connectivity system, in its bid to tackle the alarming number of awaiting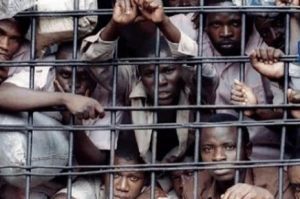 trial inmates and decongest prisons.
Seventy percent of prison inmates across the prison formations in Nigeria are awaiting trial.
It is a situation the Federal Government has been trying hard to tackle through policies, associated programmes and legislation such as the criminal justice act
Its latest strategy towards tackling this issue is the establishment of a web-based automated inter-connectivity system, which is a digital way of decongesting the prisons
This week, the council approved two contracts under the national social investment programme, seeking to give accelerated training and certification skills to 75,000 Nigerians between the ages of 18 and 35 .
The Federal Capital Territory brought two memos to Council for approval, the first being the award of a supply contract for the Abuja Water Board.
The second memo was a contract for the supply of 500 fire men suits under the FCT Fire Services.
Both memos were approved.
Finally, the Federal Cabinet this week, approved 291.7 million naira for the procurement of a Memory Access Retrieval System to enhance security in the aviation sector
It is also expected to upgrade the accident investigation laboratory and
is a requirement of International Civil Aviation Organisation (ICAO) in
their standard practices.