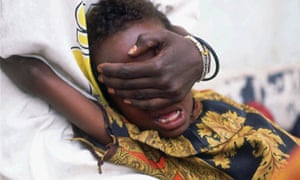 As Nigeria joins the world to mark the International Day of the Girl Child, experts want stringent laws to be made to put an end to female genital mutilation in Nigeria.
The theme of this year's event is 'Girl Force: Unscripted and Unstoppable'.
Helen Osamede-Akins reports that the international day of the girl Child is set aside to promote girl's empowerment and fulfillment of their
human rights while also highlighting the challenges that girls all over the world face.
In Nigeria, challanges of the girl child range from Discrimination, Denied education, Physical abuse, sexual assault and female genital mutilation.
Female genital mutilation is an age long tradition which has been passed from one generation to another in Nigeria and Africa at large.
And to mark the international day of the girl child, these women have taken it upon themselves to educate these young girls on the dangers of
female genital mutilation and why it must be resisted .
They insist that the dangers outweigh the supposed benefits preached by traditional practitioners and want the authorities to put stringent laws in
place to eradicate the practice.
Similarly, in commemoration of the international day of the girl child, the house of representatives has resolved to convene a legislative summit on the challenges of hygiene management in the country.
Lawmakers have also urged the federal ministries of health and women affairs to initiate ways of improving hygiene of women and girls.
The motion brought under matters of urgent public importance was sponsored by Adewunmi Onanuga from Ogun state.