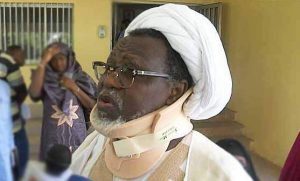 The Islamic Movement in Nigeria has described the Kaduna state government's terms and conditions for the medical leave of Sheikh Zakzaky and his wife as a ploy to kill them in detention.
In a statement by Abdullahi Muhammad Musa, the group said the conditions are not more than a desperate move by el-Rufai to assassinate the Sheikh in detention, and we hereby turn down the conditions.
The statement added that the terms and conditions proposed by the state are neither from the court nor from the DSS, and therefore urge all people of conscience to protest against what the group termed desperate move to frustrate the already ordered medical leave.
It reads in part: "The public is not unaware that el-Rufai has at first objected the application filed by Sheikh Zakzaky and his wife, seeking court order to travel out of Nigeria for urgent medical treatment at Medanta Hospital, New Delhi, India. If he had failed to put a stop to the court ruling, at present el-Rufai is desperately determined to achieve what he couldn't beforehand.
"Moreover, after the court ruling, reliable information within the circle of the Executive arm of the government in Kaduna State disclosed its reluctance to obey the court order. Later on, a piece of news item from the Punch Newspaper revealed that el-Rufai would appeal the court ruling. In a nutshell, Kaduna State just wants to disobey the order of a court of competent jurisdiction.
"We want to state categorically that whatever happened to our leader Sheikh Ibraheem Zakzaky and his wife, Kaduna State Government in particular, and federal government in general, should be held responsible. The health of the couple is fast deteriorating, seriously. Thus, from el-Rufai to Samuel Aruwan, the executives of Kaduna State Government are huge cogs in this machine of tyranny, oppression and mortal persecutions," the group said.