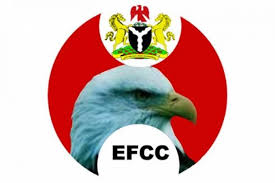 The Economic and Financial Crimes Commission has dispatched teams of operatives to investigate abandoned projects across the country. 
Acting Chairman of the Anti-graft agency, Ibrahim Magu explains that the move is to ensure that contractors complete these projects so that Nigerians can benefit from them.
TVC's Lanre Adeyemi reports that Magu was in Gombe to persuade more strategic stakeholders to join in the anti-graft campaign.
Magu, who explained some of the strategies his commission is employing to achieve its mandate while speaking with leaders of civil society organisations, religious and traditional rulers, and business owners, reiterated  the Commission's commitment to take the anti-graft to every sphere of life.
Selected influencers were clear about their desire to join in the anti-corruption effort, but called on the agency to first clean up its own house and remain non-partisan.
Some other issues on the front burner during the meeting are; campaigns, election financing, and vote buying, estimated electricity billing, rule of law and transparency in use of recovered funds.