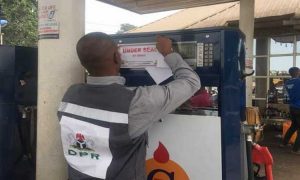 The Department of Petroleum Resources has sealed many gas plants and petrol stations in Ogun state for under dispensing the product.
Coordinator of the agency in Abeokuta, Muinat Bello-Zagi says many of the filling stations were violating standards and shortchanging innocent Nigerians.
She faulted some owners of petrol stations undergoing renovations, without notifying the agency.