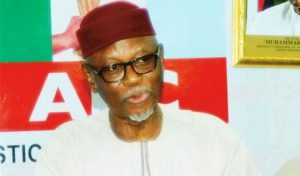 Given the programmes and policies of the administration of President Mohammadu Buhari, the All Progressives Congress remains a party to beat in any election in Nigeria.
The Chairman Congress Committee of the APC to Osun state, Shamsu Giwa stated this in Osogbo shortly after the ratification of some of the delegates of the state for the forthcoming mini national congress of the party.
Delegates from all the 30 local government areas and the area council of thee state attended the meeting which held at the state party secretariat.
Giwa who expressed satisfaction about the exercise disclosed that most of the delegates have been ratified and those who have little problem have been asked to settle their disagreement or settle for election.
On the chances of the party in future elections in Nigeria, the congress committee chairman and the chairman of the APC in Osun state said, not even the PDP can defeat the ruling party going by its antecedent.
They called on Nigerians to be more patient with the APC government even as the economy of the nation is gradually being reshaped.