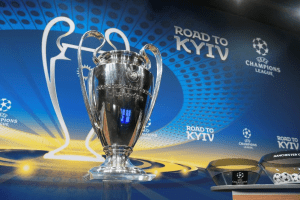 After a thrilling Champions League quarterfinal round that saw the threat of multiple enormous comebacks and one completed one, the draws of who will play whom in the semifinal round for the right to compete for the European Cup in Kiev is out and looks incredibly enticing.
Liverpool vs Roma
Liverpool FC has been drawn against Roma in the semi-finals of the Champions League.
Jürgen Klopp's side came through an all-Premier League quarter-final against Manchester City, winning the first leg 3-0 at Anfield and the second 2-1 at the Etihad Stadium on Tuesday night.
Serie A side Roma produced a remarkable comeback to knock out Barcelona. The Italian team lost the first leg 4-1 in Spain, but progressed on away goals following a 3-0 home victory.
For Mohamed Salah, the Liverpool forward, it will be a return to Rome, where he scored 29 goals in 65 league appearances before moving on last summer.
"Of the three options that were available I've never played there before so that is already exciting," said Klopp. "It will be two difficult games. Roma are a fantastic side as you saw against Barcelona. They played a very good season after a difficult transfer window for them last summer.
They lost Mo, Emerson and other key players but still they played a really good season and are fighting for the Champions League again. When we face Roma we will know everything about them. I saw the second leg against Barcelona and they were outstandingly good."
The final will take place in Kiev at the end of May but the Scotland defender, Andrew Robertson, insists Liverpool will not fear any opposition.
"This club has been here before and they know how hard it is – regardless of who you are playing – to get to the final and try to win this trophy," Robertson said. "We know how hard it's going to be and we need to try and work so hard to get to the final because we need to deserve it."
The Roma sporting director has challenged his players to channel the same spirit that they did against Barça on Tuesday.
"It feels like a great opportunity to chase the joy that we were not able to experience so many years ago," Monchi said. "But of course it will be difficult because Liverpool are an extremely strong side. We need to think about ourselves, and try to reproduce what we were able to show against Barcelona."
Bayern Munich vs Real Madrid
The other semi-final will be between European heavyweights Bayern Munich and holders Real Madrid, who needed a dramatic stoppage-time penalty from Cristiano Ronaldo to see off Juventus after the Italian outfit had come back from 3-0 down in the first leg to level the tie. "It's one of European football's top clashes," said Bayern's departing manager, Jupp Heynckes. "It's the defending champions against a top side with quality players."
The first legs will be played on 24/25 April, with the second legs on 1/2 May.